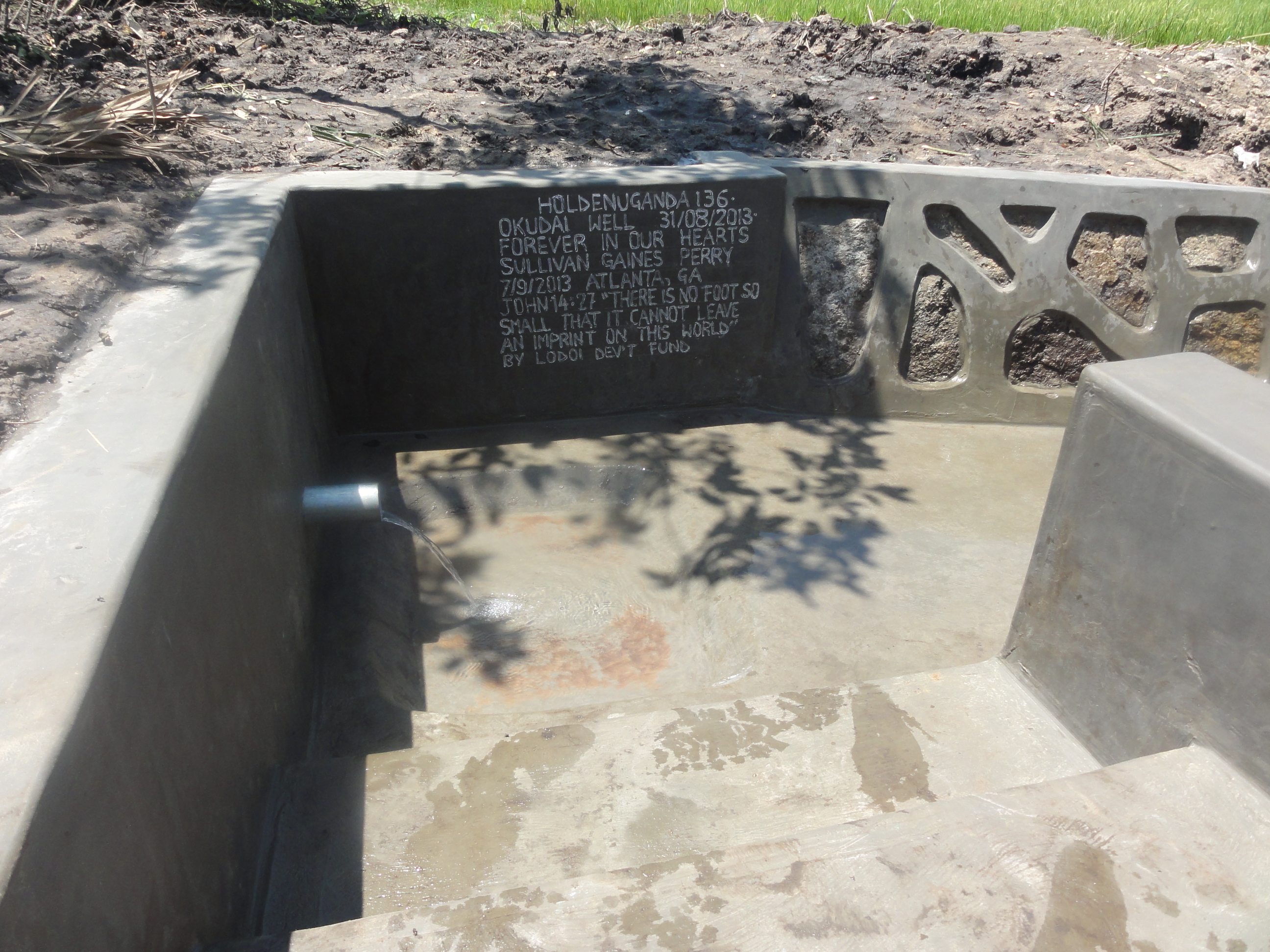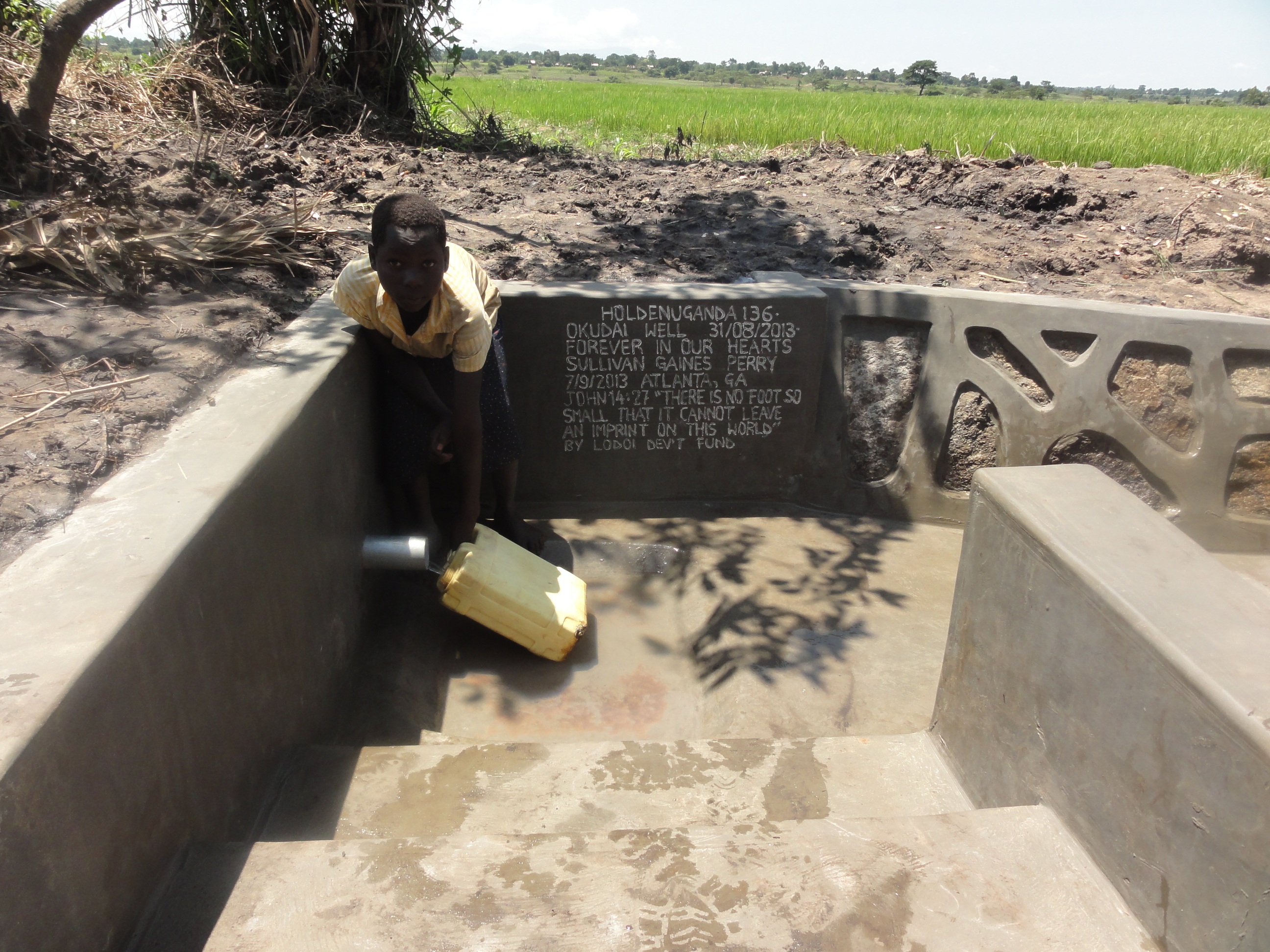 Today we share with you well #136, called Okudai well. It provides clean and safe water to about 2,500 people. The gift of life through clean water is such a blessing!
Forever in our Hearts
Sullivan Gaines Perry

7/9/2013
John 14:27
Peace I leave with you; my peace I give you. I do not give to you as the world gives. Do not let your hearts be troubled and do not be afraid. John 14:27
"There is no foot so small that it cannot leave an imprint on this world."
Thank you Brandon & Ericka Perry for sharing your story with us below:
Sunday, July 7th had been just like any other day. We had a great holiday weekend visiting with friends, going to cookouts and really just enjoying everyone's company. Up to that point, the pregnancy had been going smoothly. We had just entered the 20th week and were still riding the emotional high that comes with telling the great news to your family and friends. We had agreed to wait until we were at least 13 weeks along to make it past the "red zone" and it happened to coincide with Mother's day and a parent's birthday. Both sets of parents were beyond excited. Everything was perfect.
That night, when we got home we were relaxing and getting ready to get back to the grind of a Monday. After a shower, Ericka began complaining that the baby was "sitting weird" and it began to hurt. Over the next hour or so, the pain got significantly worse and we called the Doctor who told us to make a trip up to the hospital. It was now 11:30 at night and we were terrified. When we got to the ER, they ran some preliminary tests and informed us that while there was no sign of infection, Ericka was beginning to go into premature labor. They informed us that the baby still had a heartbeat and we would know more in the morning. They said that if there was enough fluid around the baby, Ericka would be in the hospital for the remainder of the pregnancy. We were cautiously optimistic and it was the longest night of our lives.
The next morning we saw a specialist for another ultrasound. The look on her face said everything. Then she uttered the words "I'm so sorry" and let us know that our baby no longer had a heartbeat…then she left. We were shattered.

That afternoon they induced labor, and the next morning Ericka gave birth to a little boy whom we named Sullivan Gaines Perry. What was supposed to be one of the happiest occasions of our lives had quickly become one of the darkest, literally overnight.
A couple of days later when we came home, everything just felt "different". Nothing else seemed to matter anymore. All of the stresses of life that consumed so much of our time seemed arbitrary and downright silly. We spent the next couple of weeks dealing with the rollercoaster of emotions that come with this kind of experience. All we wanted was understanding and an answer to why this happened, but it was a tough pill to swallow knowing that there would never be any.
Telling our family and friends became the hardest part. Having to share this story over and over again really didn't do much in providing "closure" on the myriad of emotions we had. Everyone was great and supportive, but there wasn't the opportunity for us to begin to heal. During this time two dear friends who are sisters, told us about the Holden Uganda organization and their mission. We checked out the organization and came to the conclusion that if our son's passing can help provide the life giving resource of clean water to those in need, then it's a chance for us to turn this loss into something positive and for our son to live on in service to others. We couldn't think of a better way to remember him.
When we agreed to do it, our friends took the liberty of putting everything together and even reached out to their own friends and family for support. The building of the well quickly became the main focus for us, and we began reaching out to our own family and friends. The outpouring of support was overwhelming and the well was funded in no time – before our immediate families were even able to contribute. It was a warm feeling to know how many people care about you in this world despite knowing you personally or not. It's an honor to call the people we know family and friends.
As we perused through the pictures we received of the finished well and of the villagers in Uganda who will benefit from it, we were smiling ear to ear through the tears that we were both shedding. Seeing "Sully's Well" and seeing our son's name engraved on the wall provided another miraculous byproduct. The comfort knowing he was serving his purpose for others and that we can begin to look forward again.
We couldn't be more grateful for this organization and its mission. Through their hard work and compassion, the lives of those lost are able to provide a life giving resource to those in need, which is truly a beautiful gift.

Thank You.